Welcome
This is the only site authorized and developed by Ritchie's family, Bob, Connie, Irma and Mario. Take your time, there is a lot of great photos and memories we want to share with you. We hope you will enjoy your visit with us and come back often.
Articles of the Month
News from The Family
Winter Dance Party 2018
What's up with Mario
A Legend Lost
The Ritchie Valens Foundation
Ritchie Valens Memorabilia On Loan
Original Ritchie
There's Music at Three Star Plaza
Ritchie Valens' Soy Capitan™ Cola

Original Ritchie
Original Ritchie, the Ritchie Valens Store, opened May of 2006. Please click on to Original Ritchie for a visit. We hope you will love what you find there "Our Best Sellers" the music "CD"S" and the T-shirts. The Family would like to thank all of customers both here in the USA , Australia, and the United Kingdom we are not only National but International.
For the best selection in Ritchie Valens CD's just click on "Music" once in Original Ritchie.
Ritchie Valens' Soy Capitan™ Cola
C3 Entertainment, Inc. is excited to announce a license with Rocket Fizz Soda Pop and Candy Shops to produce a Ritchie Valens soft drink called Soy CapitanTM Cola for sale in all Rocket Fizz stores and other select outlets.
In stores now, you can enjoy a bottle of Ritchie Valens' Soy Capitan™ Cola around the country in 28 states and over 120 locations. The bottle features classic imagery of Ritchie Valens with one of his electric guitars.
According to the Valens family, cola was Ritchie's favorite soft drink flavor. He could often be found sipping a cola with friends at the popular Southern California diner, Bob's Big Boy. Read more.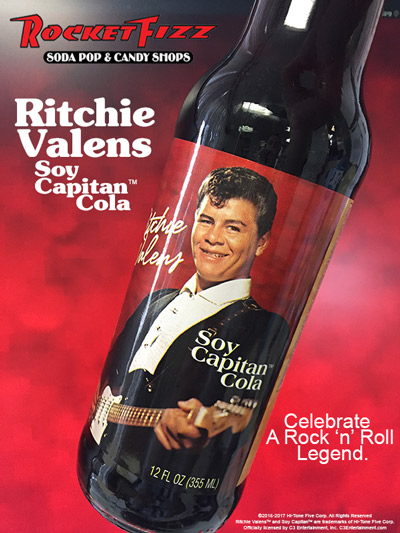 For Licensing, Merchandising and Advertising Contact:
Ani Khachoian
Executive Vice President of Licensing, Merchandising and Distribution
C3 Entertainment, Inc.
1415 Gardena Avenue
Glendale, CA 91204
Email - Phone: (818) 956-1337 ext. 215
What's up with The Family
Winter Dance Party 2018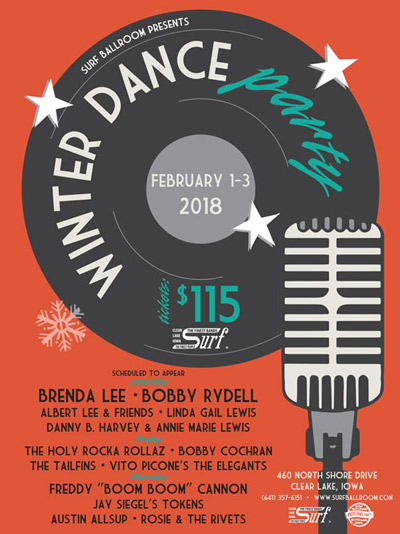 We are happy to be invited back to the Surf Ballroom for The Winter Dance Party 2018, as ambassadors representing our brother Ritchie Valens.
It is our great pleasure to meet and greet and spend time with our WDP Family.
For complete information for the 2018 Winter Dance Party Line-Up and Schedule, go to surfballroom.com.
The Family is pleased to announce a new event at this year's Winter Dance Party Weekend, the family is hosting, "The Ritchie Valens Family Luncheon". We invite you to join us. The Luncheon date is Saturday February 3, 2018, at the Best Western Holiday Lodge, held in the Diamond Ballroom, Clear Lake IA. Doors open at 11:00 am and goes till 2:00pm, with music provided by "Richie Lee" & Tony Halsrud of the Fabulous 50's band, yes there is a dance floor so be sure to wear your dancing shoes. Cost of Luncheon is $20.00 and that covers everything. Tickets available at the door, online at surfballrom.com or by calling 641-357-6151.
Be ready for lots of surprises, including special surprise guest, (and dear friend of the family) master of ceremonies, all the way from Carson City Nevada, and a special WDP sale on all our vintage Ritchie Valens T-shirts and lot's more.
The Ritchie Valens Foundation
We have decided to postpone the filing of our non-profit status, while we do some reorganization.
It is important to the family, that we continue to perpetuate Ritchie's legacy, and stay involved in producing and promoting events, in using Ritchie's name, and through the use of his name or that of our Corporation Hi-Tone Five.
There's Music at Three Star Plaza
The interactive music and short bios for Ritchie Valens, Buddy Holly and The Big Bopper is complete. It was up and available for fans to enjoy the first weekend of August 2017. It is the newest addition to Three Star Plaza.
Imagine our excitement and that of all of the fans that contributed to this project, special thank you the Clear Lake Chamber of Commerce and the Surf Ballroom.
What's up with Mario
Mario and the Backyard Blues Band.
A Legend Lost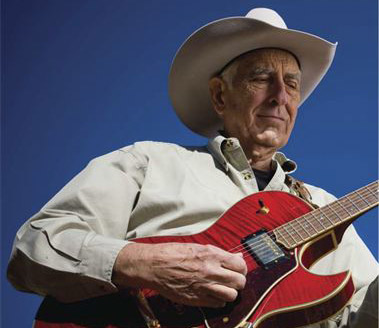 It will be a year on January 11, 2018, since the passing of our good friend Tommy Allsup.
Tommy was the last surviving member of Buddy Holly's band, that played the Surf that night. The Winter Dance Party Tour, February 2,1959, at the Surf Ballroom, Clear Lake IA, and the subject of infamy, The famous coin toss with Ritchie Valens for a seat on the ill-fated flight. That became known as "The Day the Music Died".
Tommy was posthumously inducted into the Iowa Rock and Roll Hall of Fame Class of 2017, receiving the Matousek Family Lifetime Achievement Award, members of Tommy's family were present at the induction ceremony. Connie Valens, Ritchie's sister escorted Tommy's daughter Gayla as she was presented her fathers award.
Ritchie Valens Memorabilia Items On Loan
Most fans don't know that many of Ritchie's personal belonging were taken from our Mothers home right after Ritchie's death, some of those items have been sold at auction, and others are held captive. Fortunately the family has recovered a few items, through the generosity of those who had them, once they discovered their true origin.
We are proud to announce that most of these items are housed in Museums across the country. At The Grammy Museum in Los Angeles you can visit Ritchie's Harmony Guitar the one he painted green in wood-shop at San Fernando High, along with other items.The Rock and Roll Hall of Fame and Museum in Cleveland Ohio, has Ritchie's performance outfit the Blue Satin Shirt Rhinestone Studded Pant and Vest and Roller Skates. The Surf Ballroom and Museum in Clear Lake Iowa has the Bow Tie Ritchie wore in his first professional portrait, the Wallet that he was carrying at the time of the crash, along with family photos. We hope that in your travels you will stop and visit these famous sites.